Chairman's Message for 2022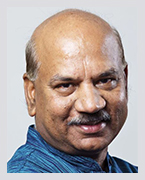 AgSri has completed 11 years in 2021. Now we are in 2022. AgSri as Startup Company has gone through the excitement and optimism. After the Awards and press coverage, the reality kicks in. In the harsh world of money and business, the only yard stick for any company's success is "profitability" comes into forefront. AgSri not yet able to measure up to that yard stick of investors and bankers, but it is improving. The agriculture is far more difficult sector for investors, particularly when there are no IPs and no input related product often with chemicals. In India still agriculture is deemed as an occupation for farmers and agriculturalists but has not attracted the investors as a business opportunity. AgSri ticked all the boxes "Social Enterprise" - saving water, saving seed, using less chemical inputs, improving the farmers income, creating jobs particularly for women. But all these are not enough to attract investors even the public sector bankers.

AgSri achieved a great deal of recognition- innovation award of Millennium Alliance, Water Benefit Certificates of Gold Standard, through and very rigorous independent evaluation process validated that AgSri's scientific concept of Sustainable Sugarcane Initiative has benefited farmers in improving the crop productivity while using less water. But this did not translate in attracting investments even from the "impact investors". Still there is long way in impact investors investing in rural enterprises which are making real impact like AgSri. That is reality and it took a while to understand that aspect.

While investors have excited about what AgSri is doing and its impact on the ground with farmers, resources, climate change, all of which have been understood and documented. AgSri is looking for investors who can believe that it is possible to make money in agriculture sector without looking at the IPs.

AgSri has made good beginning in integrating contemporary space technology to develop sustainable smart agriculture. Several projects were carried out involving GIS and image processing technologies for improving the productivity. AgSri has worked with private entrepreneurs and corporates such as Nestle, Tata Trust in shifting to climate smart agriculture by delineating soil suitability zones, developing POP for various crops, optimizing water resources and storage structures etc.

AgSri, after 11 years still there and serving the farmers in their difficult times. AgSri has also learned hard way to make appropriate business plans and now continuing efforts to attract investments for upscaling. Hope we will be able to succeed in convincing the investors that there is possibility to make money while protecting environment, saving water and improving the yield of sugarcane. May be it requires a struggle for decade to get right investor. We are waiting while continuing our work on the ground. We are also continuing our space applications for improving the productivity at the same time protecting our environment.